Dr. Robert C. Johnson Appointed to the UA Institute for Cellular Transplantation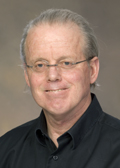 Robert C. Johnson, PhD, has been appointed research professor in the Institute for Cellular Transplantation in the Department of Surgery at the University of Arizona College of Medicine Tucson.
Dr. Johnson began his career at Baxter Healthcare Corporation where he emerged as a pioneer in managing the development of cellular and gene therapy products for the treatment of chronic diseases, including diabetes, hemophilia, liver failure and cancer. While at Baxter, Dr. Johnson led the team that developed the TheraCyte cell-encapsulation device, and he is co-inventor on numerous other patents on cell encapsulation devices.
At the UA, Dr. Johnson will work closely with UA Institute for Cellular Transplantation Director Klearchos K. Papas, PhD, and his team, as well as with transplant surgeon Robert Harland, MD, to accelerate the Institute's mission to treat diabetes using transplantation of macroencapsulated cells without the need for immunosuppression. (Dr. Harland is professor and director of solid organ transplantation with the UA Department of Surgery and Banner University Medical Center Tucson.)
We are privileged and delighted to have the opportunity to work closely with Dr. Johnson, a pioneer in cell macroencapsulation and highly experienced in the FDA's GLP and cGMP regulations said Dr. Papas, who also is UA professor of surgery. (Cell macroencapsulation involves enclosing living cells in semi-permeable materials that can be implanted to treat disease. GLP and cGMP are good laboratory practice and current good manufacturing practice.)
We are fortunate to have Dr. Johnson join the Institute for Cellular Transplantation. His expertise in cellular and gene therapy will advance our exciting novel cellular therapies for patients with diabetes said Taylor S. Riall, MD, PhD, acting head, UA Department of Surgery. His groundbreaking work in cellular therapy for diabetes, cancer and other diseases will be critical as we continue to advance precision medicine at the UA and Banner University Medicine, allowing us to provide innovative, personalized solutions for our patients
Dr. Johnson joins the UA from semi-retirement, during which he maintained a part-time position at Baylor College of Medicine in Houston, providing consulting services in the field of non-invasive prenatal genetic testing. He also served as a consultant with multiple other collaborators.
Prior to retiring from Baylor in December 2011, he was general manager of the Medical Genetics Laboratories in the Department of Molecular and Human Genetics. He was responsible for the day-to-day operations of a laboratory employing 130 scientific and medical personnel, including overseeing the financial growth of the organization, identification and implementation of new technology, managing sales and marketing, developing and managing contracts with affiliated laboratories, managing legal affairs and maintaining compliance with regulatory requirements.
Dr. Johnson began his career at Baxter Healthcare Corporation in Round Lake, Ill., in 1980 as a research scientist. He was with Baxter for 18 years, becoming senior research director of transplantation and protein therapy in Baxter's Gene Therapy Unit.
While at Baxter, he was responsible for several research programs, including cellular and gene therapy for diabetes, hemophilia and cancer. He managed multiple clinical research projects and collaborations nationally and internationally. He initiated and led a cell therapy project, which involved directing the research activities of a multidisciplinary team of scientists and engineers focused on developing methods to transplant membrane-encapsulated, genetically engineered cells for the treatment of chronic diseases, including diabetes. This project led to the development of the TheraCyte cellular transplantation system which allows therapeutic molecules (such as insulin or other hormones) to be released from cells encapsulated within them to diffuse from the device to treat disease while eliminating the need for immunosuppression.
In 1998, Dr. Johnson was recruited by the chief executive officer of VitaGen, Inc., and venture capitalists to take responsibility for the company's scientific, manufacturing and product development activities. The biotechnology company in La Jolla, Calif., was developing a complex hybrid product that combined living cells with a hollow fiber dialyzer to provide a cellular therapy for acute liver failure. Within 11 months of joining, Dr. Johnson took the company from the laboratory to an investigational new drug (IND) filing and approval by the U.S. Food and Drug Administration to begin clinical trials.
In 2003, Dr. Johnson was recruited as president of Spectral Genomics, Inc., a Houston biotechnology company that manufactured DNA microarrays for the diagnosis of genetic disorders and cancer. He was responsible for developing the manufacturing, quality assurance, research and development, regulatory, sales and marketing capabilities.
Dr. Johnson joined Baylor College of Medicine in 2007 after the successful sale of Spectral Genomics to Perkin Elmer, Inc.
He holds numerous patents for cell encapsulation devices, in particular TheraCyte, and is the recipient of numerous technical awards. Dr. Johnson has been an invited speaker at many national and international conferences, symposiums and workshops and has authored and co-authored many scientific journal articles.
Dr. Johnson received a bachelor's degree in chemistry from Temple University and a doctorate in biochemistry from Princeton University. He completed a postdoctoral fellowship at the Center for Endocrinology, Metabolism and Nutrition at Northwestern University Medical School in Chicago.
About the University of Arizona Health Sciences
The University of Arizona Health Sciences is the statewide leader in biomedical research and health professions training. The UA Health Sciences includes the UA Colleges of Medicine (Phoenix and Tucson), Nursing, Pharmacy and Mel and Enid Zuckerman College of Public Health, with main campus locations in Tucson and the growing Phoenix Biomedical Campus in downtown Phoenix. From these vantage points, the UA Health Sciences reaches across the state of Arizona and the greater Southwest to provide cutting-edge health education, research, patient care and community outreach services. A major economic engine, the UA Health Sciences employs almost 5,000 people, has nearly 1,000 faculty members and garners more than $126 million in research grants and contracts annually. For more information: uahs.arizona.edu